Hi all!
I am so excited to announce that The Gilmore Girls Readathon is taking place from October 1st – October 15th! It is being hosted by Pastel Pages – go check out her channel and announcement video to learn more. In the history of BookTube, this readathon has never been done before, so I'm pretty happy to take part in it for the very first time. This post will outline what is expected and the books I plan to read during these coming two weeks. If you didn't already know, I am a HUGE fan of The Gilmore Girls. It is one of my favourite shows and I like to think my daughter and I are going to be the next Lorelai and Rory haha. I've binge watched the entire show several times, including a couple of months before Abigail was born to hype me up for being the mother of a little girl. I grew up with this show and it means the absolute world to me. Before we continue, let me know down below if you are Team Dean or Team Jess because I'm Jess all the way! Without further ado, let's get into the rules!
There are two ways you can participate in this readathon:
1.) You can read as many books as your heart desires from Rory Gilmore's Reading List – click here to check it out.
OR
2.) Complete the 7 challenges.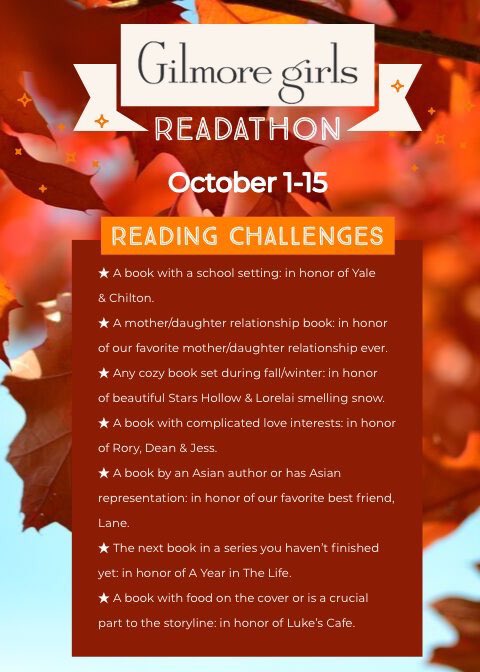 So, I'm going to go with the second option because I'm not super interested in her reading list (having already read a fair few of them). One of the great things about this readathon is you are able to combine some of the challenges to fit one book and that is what I'm going to do. I don't think it's possible for me to read 7 books in 14 days so I'm going to pick three books, including the group book (see below) that meet the required prompts. Here is my TBR!
CHALLENGE 1 – A BOOK WITH A SCHOOL SETTING IN HONOUR OF YALE & CHILTON 
CHALLENGE 3 – ANY COSY BOOK SET DURING FALL/WINTER IN HONOR OF BEAUTIFUL STARS HOLLOW & LORELAI SMELLING SNOW
CHALLENGE 4 – A BOOK WITH COMPLICATED LOVE INTERESTS IN HONOR OF RORY, DEAN & JESS 
Jamie Watson has always been intrigued by Charlotte Holmes; after all, their great-great-great-grandfathers are one of the most infamous pairs in history. But the Holmes family has always been odd, and Charlotte is no exception. She's inherited Sherlock's volatility and some of his vices–and when Jamie and Charlotte end up at the same Connecticut boarding school, Charlotte makes it clear she's not looking for friends.

But when a student they both have a history with dies under suspicious circumstances, ripped straight from the most terrifying of the Sherlock Holmes stories, Jamie can no longer afford to keep his distance. Danger is mounting and nowhere is safe–and the only people they can trust are each other.
This book takes place at a boarding school (Challenge 1), has autumn leaves on the cover (Challenge 3) and has a complicated love interest (Challenge 4). If you wish to order a copy, please click here.
CHALLENGE 2 – A MOTHER/DAUGHTER RELATIONSHIP BOOK IN HONOUR OF OUR FAVOURITE MOTHER/DAUGHTER RELATIONSHIP EVER
CHALLENGE 7 – A BOOK WITH FOOD ON THE COVER OR IS A CRUCIAL PART OF THE

STORY LINE

 IN HONOUR OF LUKE'S DINER
Ever since she got pregnant freshman year, Emoni Santiago's life has been about making the tough decisions–doing what has to be done for her daughter and her abuela. The one place she can let all that go is in the kitchen, where she adds a little something magical to everything she cooks, turning her food into straight-up goodness.
Even though she dreams of working as a chef after she graduates, Emoni knows that it's not worth her time to pursue the impossible. Yet despite the rules she thinks she has to play by, once Emoni starts cooking, her only choice is to let her talent break free.
This book revolves around a mother/daughter relationship (Challenge 2) and not only has food on the cover but uses it as part of the main story line (Challenge 7). You can order a copy here.
CHALLENGE 5 – A BOOK BY AN ASIAN AUTHOR OR HAS ASIAN REPRESENTATION IN HONOUR OF OUR FAVOURITE BEST FRIEND LANE
CHALLENGE 6 – THE NEXT BOOK IN A SERIES YOU HAVEN'T FINISHED YET IN HONOUR OF A YEAR IN THE LIFE
Ashish Patel didn't know love could be so…sucky. After being dumped by his ex-girlfriend, his mojo goes AWOL. Even worse, his parents are annoyingly, smugly confident they could find him a better match. So, in a moment of weakness, Ash challenges them to set him up. 
Sweetie loves her parents, but she's so tired of being told she's lacking because she's fat. She decides it's time to kick off the Sassy Sweetie Project, where she'll show the world (and herself) what she's really made of.
Ashish and Sweetie both have something to prove. But with each date they realize there's an unexpected magic growing between them. Can they find their true selves without losing each other?
This book is written by an Asian author and has Asian rep (Challenge 5) and is a companion novel to When Dimple Met Rishi which I read last year (Challenge 6). You can order a copy here.
AND NOW FOR THE GROUP BOOK…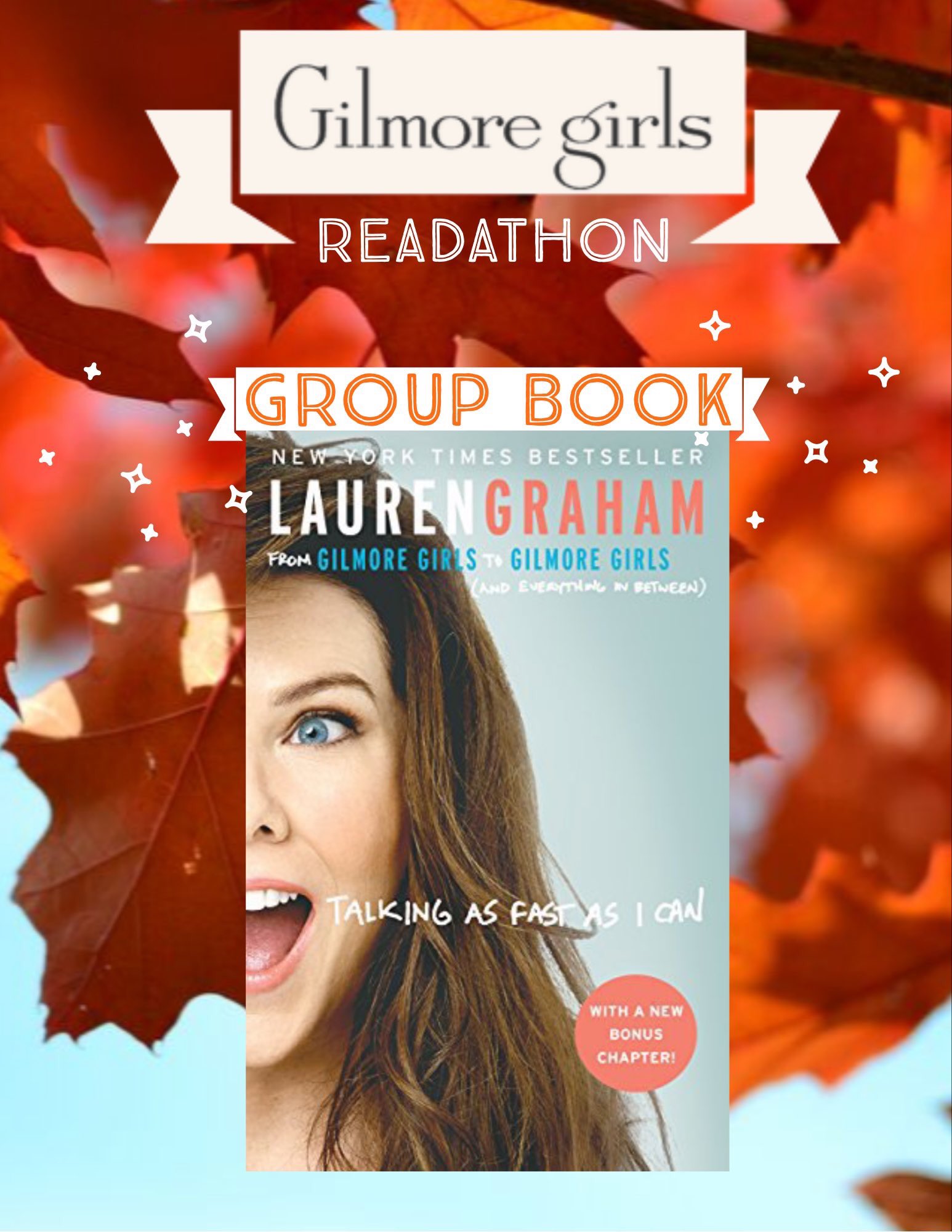 In this collection of personal essays, the beloved star of Gilmore Girls and Parenthood reveals stories about life, love, and working as a woman in Hollywood-along with behind-the-scenes dispatches from the set of the new Gilmore Girls, where she plays the fast-talking Lorelai Gilmore once again.
You can order a copy here. 
I hope you enjoyed my TBR! Hopefully I can read these four books in two weeks. I'm pretty impressed with how I managed to meet all the prompts without needing to read seven individual books. Let me know if you're participating and what your TBR looks like! I cannot wait to share all of my thoughts in my wrap-up. Thanks for reading! 
Peace & Love xoxo 
Disclaimer: This post contains links to my Book Depository Affiliate which helps fund my blog, I am not being paid or sponsored for this post/products – all my thoughts/opinions are my own